با این برنامه میتونید تا اس ام اس رایگان بفرستید ...........
freee sms ba shomareye khodetoon va bedoone tablighat
ba estefade az in app java mitoonin be tore namahdood va ba shomareye khodetoon be harki ke deletoon mikhad sms majani ersal konid ,bedoone hich tablighati .
albate ya az tarighe wireless ya gprs bayad be net motasel bashin .
age doostan komak konan ke betoonim handler mod konim in app o kheyli aali mishe cheshmak
in app mahdoodiat dare vase ersal , vali mishe doresh zad va namahdood estefade kard khoob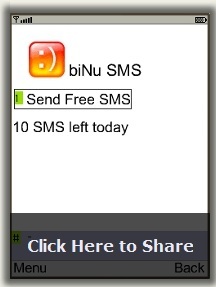 لینک مستقیم
www.
bezarin aval sait
mediafire.com/?jkuica78i87rbif 115kb
115kb
¯`•._.• •._.•´¯¯`•._.• •._.•´¯¯`•._.• •._.•´¯¯`•._.• •._.•´¯
Signature↓↓↓↓↓↓↓↓↓↓↓↓↓↓↓↓↓↓↓↓↓↓↓↓↓↓↓↓↓↓↓↓↓↓↓↓↓
¯`•._.• •._.•´¯¯`•._.• •._.•´¯¯`•._.• •._.•´¯¯`•._.• •._.•´¯
!parcham!@nimbuzz.com