Khob ebteda az linke zir Filo Dl konid!
Robot chating by romeo must die edited by !!v!!az!ar@nimbuzz.com
hala Filo az halate Zip dar biarid va file
Robot chating by romeo must die edited by !!v!!az!ar@nimbuzz.com (www.west-nimbuzz.tk).exe
ro ejra konid!
hala az shekle zir gozine TRIL VERSION bzanid!!!!!!!! akhare matno bkhonid mifahmid chi migam ;)
hala az menu UTILITIES>PROFILE MANAGER ENTEKHAB KONID> va kalame
Maziar
tayp konid va Ok konid!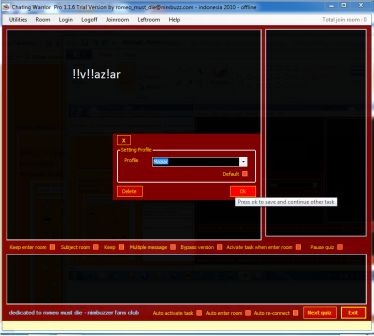 khob 2bare UTILITIES bzanid va inbar>ACCONT INFO entekhab konid!
to qesmate NaMe:ROBOT ID
to qesmate PassWord: Passw Idi
Resource o baqie chiza ham mese tasvir bzarid!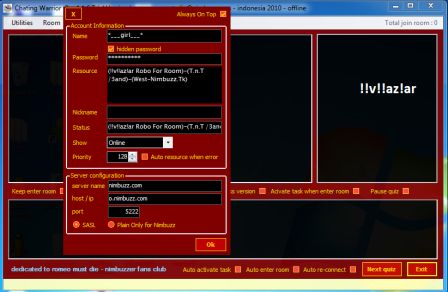 Khob ta hala nesfe karo anjam dadim!!!!!!!!!!!!
hala az Menu bala gozine LOGIN entekh konid!!!!!!!!
che vaqt idi shoma ONe? vase in kar b SNAP SHOT zir tavajo konid!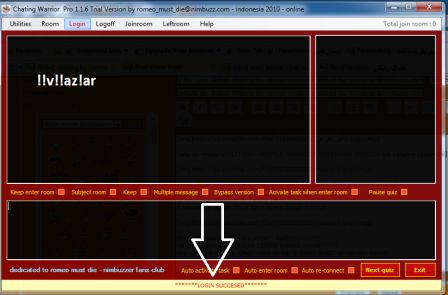 khob chetor b ROOM brim? :(
faqat kafie k ROOM bzanid!va set JOIN ROOM entekhab konid!!!
hala bjaye ROOM Name Esem room va b jaye CONFERENCE>conference.nimbuzz.com benvesid!!! va ok konid!!!!!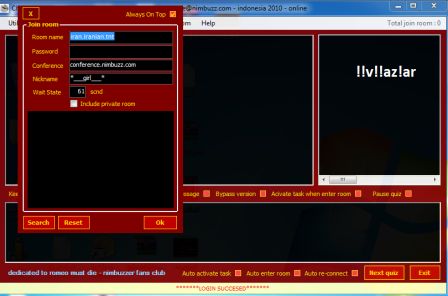 khob dg taqriban karemon tamom shod!
faqat vase taeein PMa b inja brid:
UTILITIES>CHATBOT TOOLS>CUSTOM GREETING & ROOM entekhab konid!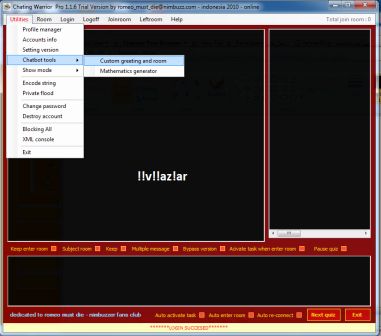 hala ba tavojo b niazetono PM ro taqir bdid k man ino tosie nemikonam chon baranme ye seri BUG dare emkan pmaton qati shan!va ham chenin ba Faaal kardane TIKe gozine ha mitonid noe tek dadane ROBO to room moshakas konid!
bad az hame in kara SAVE bzanid va Windows farie CUSTOM GREETING & ROOM bbandid!
hala hame chi amadas faqat az menu bala JOINROOM bzanid!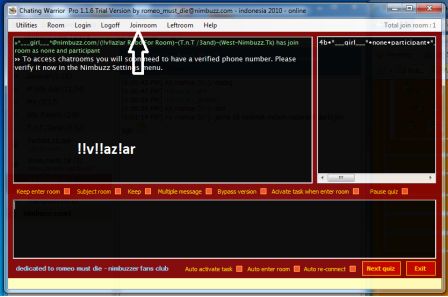 khob id varede room shod vali ye chi kame :D shoma mibinid har kari mikonid PM nemide :( khob faqat ye TIKO nazashtin ta kareton tamom she!!
TIKE gozine
ACTIVE TASK WHEN ENTER ROOM BZANID
ba in kar to room in pm miad
All task activated
bade in brid hal konid!!!!!
inam ye ax k neshon mide SOFT ba PMaye EDIT shode T.n.T /3and kar mikone k in tanha 1% PM neveshte shode to in softe ;)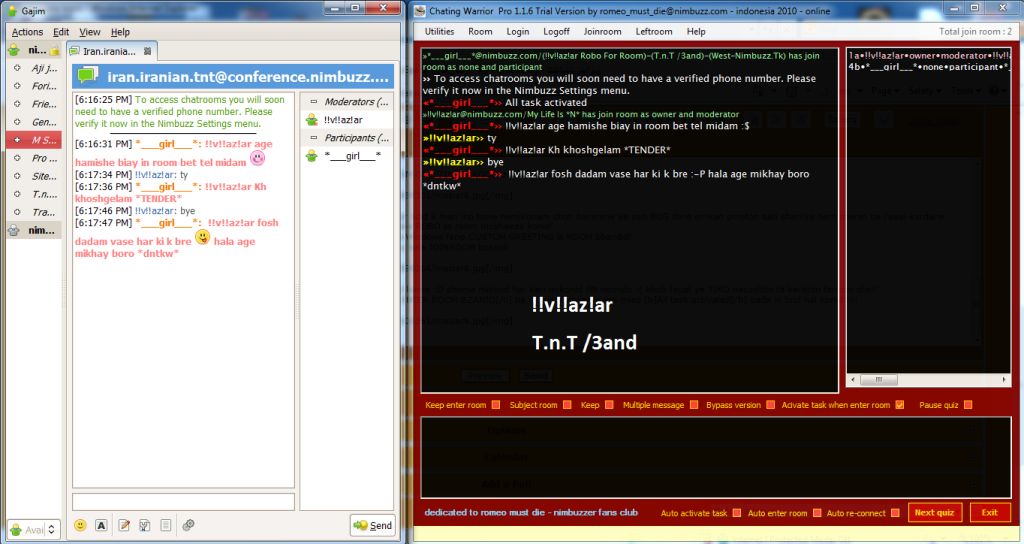 ye nokte bala goftam k in paeein migam :D
in softo baz kardam va ye seri bug dasht k hamin buga khaste ya nakhaste baes mishe k bad az 2 roz k trial tamom mishe 2bare soft karesho az aval shoro kone

yAni on STARTUP hich moshkelio to ejraye barname b vojod nemiare

b zabane sade tar brid halesho bbarid k ON tril
KASHKE

hala age khastin inam az usero serial

be jaie un validiation ke khode barname dade : A8445B5B836DD6F824C3D8795C7B23A7
va serial number : 53FB-8C60
ye nokte dg in soft kh emkanate dg dare k age bkham hamasho bgam bayad ye FOROUM dg bzanim

ye nokte jalebe dg ine k kojaye WEB amozesh b in kamelio mibinid? *HM*
pas ON klide tnx yadeton nare! ta jadid tarin softaro ba amozesh bzaram

b happy!
by !!v!!az!ar@nimbuzz.com
JUST FOR MY LOVE *N*